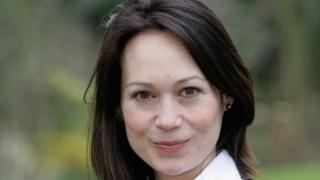 The actress who played Emmerdale's Zoe Tate has announced she has terminal lung cancer.
Leah Bracknell starred in the ITV series, set in the Yorkshire Dales, from 1989 to 2005.
Her character was known for storylines which raised awareness about mental health and LGBT issues.
Ms Bracknell, who is now a yoga coach, shared her diagnosis on an internet fundraising page set up to raise money for therapy in Germany.
On the fundraising page 52 -year-old Leah, who is known to her family as Ali, said she had been learning yoga workshops and starting rehearsals for a slapstick play before she received the news.
"It turns out that the universe had other proposes. Life was about to be unexpectedly turned on its front, " she said.
"I began to feel breathless climbing stairs … I only placed it down to a little bit of stress.
'Bleak diagnosis'
"My abdomen abruptly ballooned – and within such matters of a few eras I examined heavily pregnant. I could just tread or breathe."
After an emergency procedure to remove excess liquor from around her centre, Ms Bracknell said she was told "shes had" theatre four lung cancer, which she described as "a somewhat harsh and desolate diagnosis, but one I am determined to challenge".
Her partner Jez Hughes interpreted the funds will be used for "immunotherapy and integrative medicine, which are seeing previously 'incurable' cancers going into complete remission".
Ms Bracknell played vet Zoe Tate, sister to Chris Tate and daughter of Frank Tate, one of the main families in the soap.
During her times on the prove Zoe Tate came out as lesbian and later suffered from schizophrenia.
She made a spectacular departure when she left the hamlet, blowing up Home Farm where their own families had lived.
She won the 'Best Exit' award at the British Soap Awards in May 2006 for her performance in the scene.