This weeks roundup also features Pakistans cricketing high-priceds and lows, a vertigo-inducing mountain descent and a piece of overzealous goalkeeping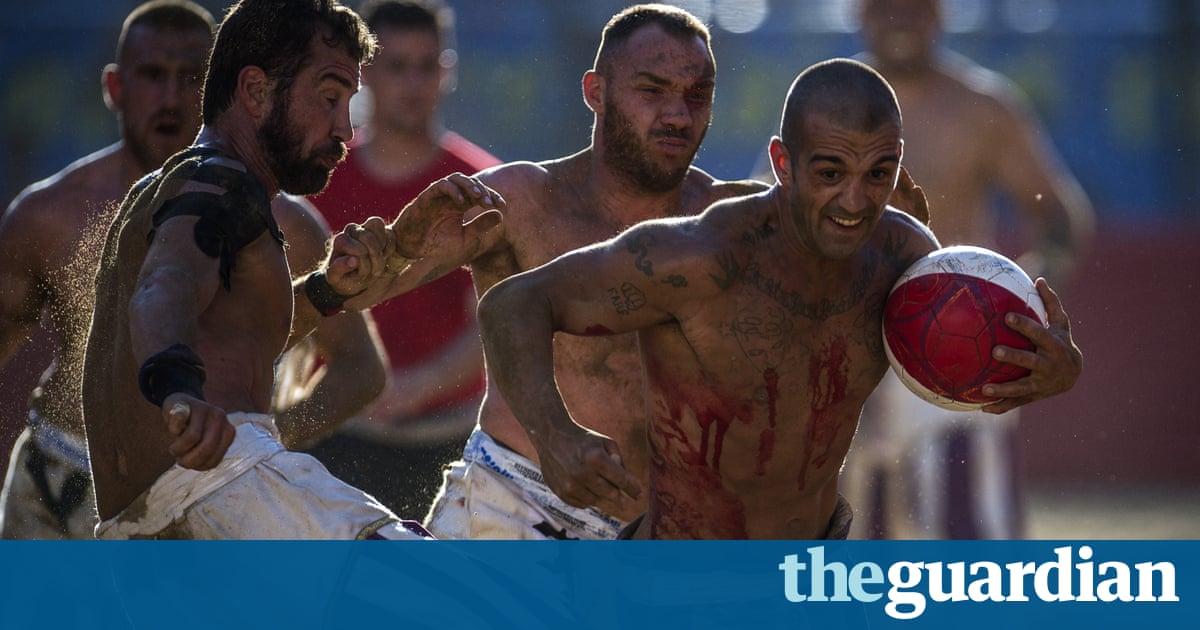 1) An Atlanta Braves fan takes on The Freeze with a massive headstart, tries his hand at hubris, falls over.
2) It was the Calcio Storico semi-finals last weekend and the match between La Santa Croce Azzurri and Santo Spirito Bianchi featured merely the 40 -man brawl and involvement of riot police after a actor punched a umpire. Of trend, given the nature of the play, who the hell is modelled on a primitive anatomy of football from the 16 th century, its not always easy to draw a distinction between a brawl and run-of-play action.
3) Pakistan unnerved the curious to reach the ICC Champions Trophy final for the first time. Its become a bit of a cliche to describe them as mercurial or unpredictable, but nonetheless they remain a team that could go either way, as their past chronicle in finals illustrates. In 1992, inspired by Wasim Akrams unplayable bowling, they clutched the trophy from Englands grasp; and in 2009 Shahid Afridi conducted the charge to deliver victory on English soil in the World T2 0 final against Sri Lanka. Will that kind of Pakistan turn up on Sunday, or this one, the talented back that flopped so miserably at the final obstacle against Australia in the 1999 World cup finals final, bowled out for 132 and beaten by eight wickets.
4) The US Open gets underway on Thursday. Get in the mood for it with a looked at at Rory McIlroys tournament record 16 -under-par 268 in 2011, and happier epoches for the purposes of an psychological Tiger Woods as he drains a 12 -foot birdie putt to push a play-off against Rocco Mediate, which Woods would go on to win. And, further back, Jack Nicklauss firstly major entitle, when he saw off Arnold Palmer in a far-famed play-off to acquire at Oakmont in 1962.
5) How do you scamper down 999 steps on the side of a 45 -degree incline mountainside in under three minutes? Let Calen Chan show you, with this vertigo-inducing up-close view of his assault on the Skyladder Parkour course at Tianmen Mountain in China.
Highlights from last weeks blog
1) More awe-inspiring, vertigo-inducing free-climbing antics, as 55 -year-old French spiderman Alain Robert scales the Melia Barcelona Sky Hotel without a harness.
2) The Birmingham goalkeeper Ann-Katrin Berger paying her own tribute to 1982 World Cup scoundrel Toni Schumacher against Chelsea in the Womens Super League 1 Spring Series.
3) Aussie regulates action, as Andrew Boston scores from an impossible angle in the NEAFL versus TSL representative play, and an amazing rating by Collingwoods Jeremy Howe last Monday against Melbourne. The Melbourne player whose shoulder he leaps on is 194 cm tall.
4) With a pierce this powerful, Syria goalkeeper Ibrahim Alma could take up a second vocation as a boxer.
5) Game 4 of the NBA Finals. LeBron James with the alley-oop off the backboard to himself.
Spotters badges : BlackCeaser, LeeWall, CocoTheMonkey, TheCedarRoom and GrahamClayton