British astronaut Tim Peake is going through a gruelling round of final educate before liftoff to the International Space Station next month.
Here at Russia's Star City centre near Moscow, he and two colleague cosmonauts endured three hours in a Soyuz simulator this morning.
Dressed in spacesuits, the three men clambered into the tiny capsule for a rehearsal of the end of their mission.
This is when the crew uncouple from the ISS and condescend back to Earth.
Just before the rehearsal began, I suggested to Tim Peake that he searched far more sombre than he had during a big media date in London last week when he seemed to enjoy fielding light-hearted questions.
"It is a serious business, " he said, sitting on the steps leading to the spacecraft.
"There's a fun side to room and what we do and the educational programmes we lead but when it comes to actually get into a Soyuz rocket – and the operational tasks that we have to perform – you need to be focused and serious."
Asked about the greatest challenges during the pretending, he said: "The most difficult thing to deal with is multiple outages.
"If you have just one failure then you can work through it as a crew. But if "youve had" various it's much harder to keep track of all the problems."
---
Tim Peake: Career in brief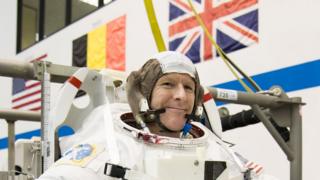 Born on 7 April 1972 in Chichester, West Sussex Studied at Chichester High School for Boys, leaving to participate in the Royal Military Academy in Sandhurst After graduating, he served in the Army Air Corps and moved Apache helicopters Retired from the Army in 2009 and was utilized as a senior helicopter test pilot for AgustaWestland Selected as a European Space Agency cosmonaut in May 2009 and accomplished basic training the following year. Has been training for his six-month mission aboard the International Space Station, are planned for launch on 15 December 2015 Enjoys skiing, scuba diving, cross-country flowing, climbing, and mountaineering, and he is interested in quantum physics and aviation