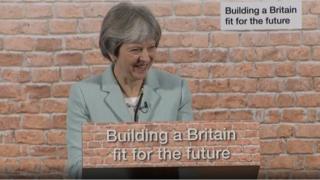 Theresa May's speech announcing plans to reform housing in England has been overshadowed by her backdrop.
The prime minister stood surrounded by fake bricks as she told young people they're "right to be angry" at not being able to buy a dwelling.
People on social media couldn't get over the determined though, suggesting Mrs May looked like she was climbing out of a chimney or in a Mario video game.
The PM employed her speech to criticise property developers.
Mrs May, who said home ownership was predominantly unaffordable to those not backed by "the bank of mum and dad", was speaking at the National Planning Conference.
But for some people the backdrop prompted them of somewhere else altogether.