It's been a rough one-quarter for the rollout of Tesla's Model 3. There were faulty robots at the Nevada battery factory and an idled production line in California. Reservation holders from San Diego to Brooklyn, New York, interpreted their delivery durations pushed back. What should have felt like a cascade of electric cars spate American streets seemed more like a seep.
Now, with less than two weeks left in the quarter, Chief Executive Officer Elon Musk is looking to make up for lost time." Just got back from Gigafactory ," he said on Twitter before dawn Thursday." Will be at our Fremont factory in the morning. Tesla team is going all out ."
Those exertions appear to be paying off.
Bloomberg is tracking the Model 3 rollout with an experimental tool that approximates production using vehicle identification numbers( VINs ). Our prototype estimates that Tesla is shaping 805 Model 3s a week, for a magnificent total of ten, 636 vehicles even further. But that tells only part of the story. We track two establisheds of VIN data, and both are showing indications of important improvements to come.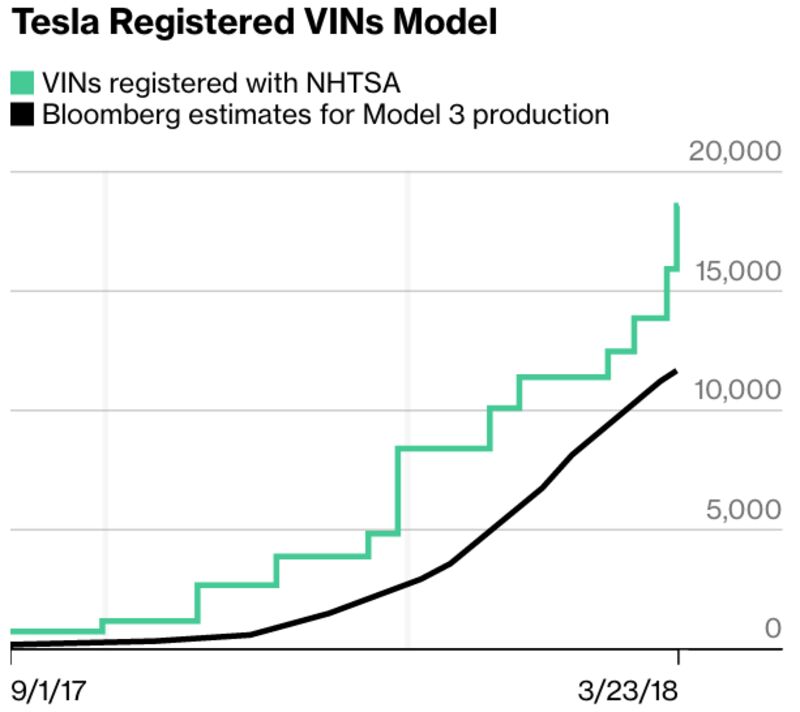 Method 1: Registered VINs
First, our simulation looks at batches of VINs that Tesla registers with U.S. safe regulators. So far in March, Tesla has registered four batches–enough to build 7,192 brand-new Model 3s. Each batch of VINs was greater than the last, and the time between batches was shorter than we've normally read so far. These are signs of progress.
Our model is, by design, slow to respond to such changes in the data. In ordering to escape over-reacting to uncommon batches, we've averaged our creation charges over hour. That means our model's current reckoned make frequency is still being held back by February's temporary manufacturing intermission. We expect the improving veer will be pursued next week, based on the data we've already received.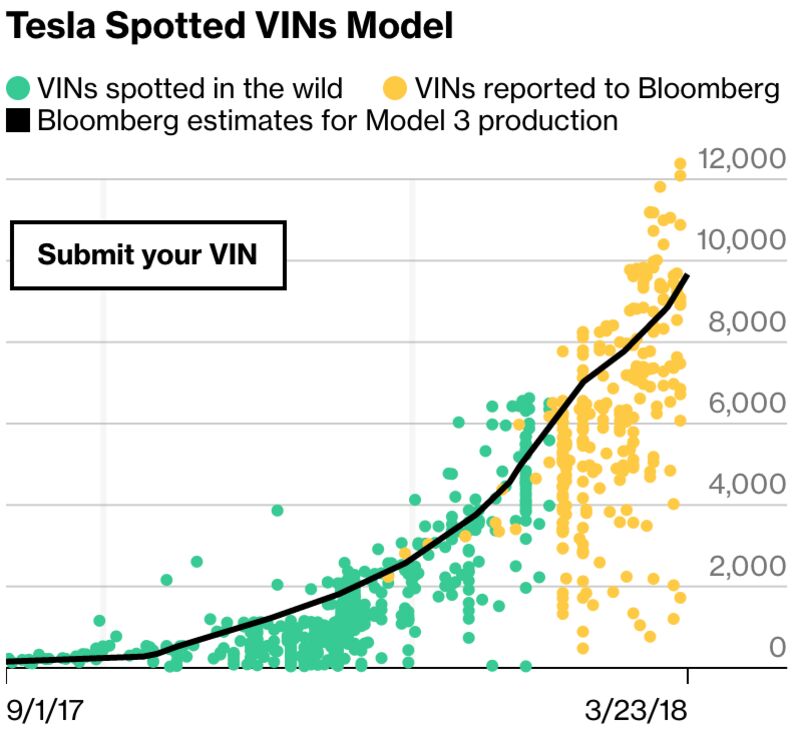 Method 2: Spotted VINs
Our second data set is made up of VINs from Model 3s recognized in the wildernes( as in, out on the streets) and those reported by brand-new owners immediately to Bloomberg. This week those VINs breached a brand-new threshold, excess 12,000 for the first time, with five new record-high VINs. The trajectory of the reported VINs is steeper and more coherent than we've seen before, and our model's estimates are just beginning to reflect that.
Both of our procedures are designed for long-term accuracy, but they take some time to register sudden alters. The tracker currently establishes Tesla clearing 810 Model 3s a few weeks, up from 693 in the prior week. However, we thoughts our pattern may be underestimating what's going on at the Tesla flowers. Based on some of the numbers we're accompanying, we think it's possible that Tesla could already be rendering well over 1,000 a week and climbing.
That doesn't make up for all of Tesla's first-quarter production woes. At the start of the year, Tesla said it was already capable of cranking out 1,000 Model 3s a few weeks and would finish the quarter at 2,500 a week. Bloomberg's model suggests Tesla is still nowhere near where it wanted to be–but there's still one week to allow them to make up some floor.