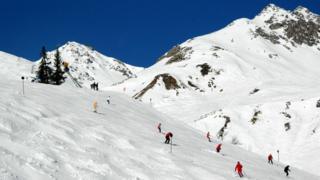 A man suffocated in a snowboarding coincidence when he fell into a crack, an investigation has heard.
David Ewart had dashed head first into deep snowfall seconds after specifying off on a ski run in Austria that had been closed because of an avalanche risk.
Mr Ewart, 48, of Hade Edge, near Huddersfield, West Yorkshire, had let loose a "whoop and a smile" as he set off, Bradford Coroner's Court heard.
Mr Ewart had believed the descent was open, the hearing was told.
He died during a tour to St Anton am Arlberg on 8 March.
Mr Ewart had been on the expedition with seven old university pals, two of whom cleared hopeless was trying to dig him out, the inquest heard.
Kathryn, his wife and mother of their two daughters, was indicated in the following statement to the inquest: "David was a very happy "mens and" adoration his family. I will miss him every day."