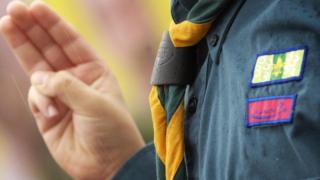 A shortage of leads has left thousands of children stuck on a waiting list to become Scouts, Beavers, Cubs or Explorers, the Scout Association pronounces.
Here, two beings to have donned the Scouts' woggle and scarf describe the ups and downs of has become a volunteer.
Lynn Dredge, who leads her local Beaver group for six- to eight-year-olds in Surrey, tells she genuinely enjoys her role.
"You're capable of doing thoughts you would have as small children but with your adult's top on – you still get that stage of recreation, " she says.
"We do sleepovers in the Scout hut and sing chants – all the old-time traditional thoughts which the minors love.
"Because we're a village I sometimes understand old Beavers who are now grown up – they'll speak 'Hi Kingfisher! ' which is my scouting name."
The 52 -year-old, a belief aide in a primary school, has led different groups for 16 years. She began as a mother volunteer after her son Stephen joined.