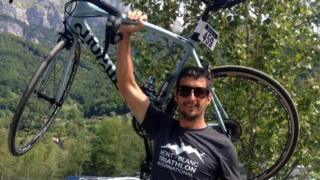 The girlfriend and father-god of a soul was dead while cycling in the French Alps have defended him against rape claims.
Marc Sutton, 34, from Caerphilly, was mountain biking near Morzine when he was struck by a move bullet understood to have been fired by a hunter.
Following tributes to him, his sister Katie Toghill told The Sun newspaper that he frequently raped, threatened and physically mistreated her as a child.
But other family members said they are devastated by the allegations.
His partner Jo Watts, 35, who guided Wild Beets Kitchen in Les Gets in the Alps, said: "Of course I'm smashed by his death, their own lives take measures to ensure violently by a hunter while he innocently rode his bicycle on a popular track.