Newcastle Uniteds survival expectations were damaged by a 0-0 draw away to already-relegated Aston Villa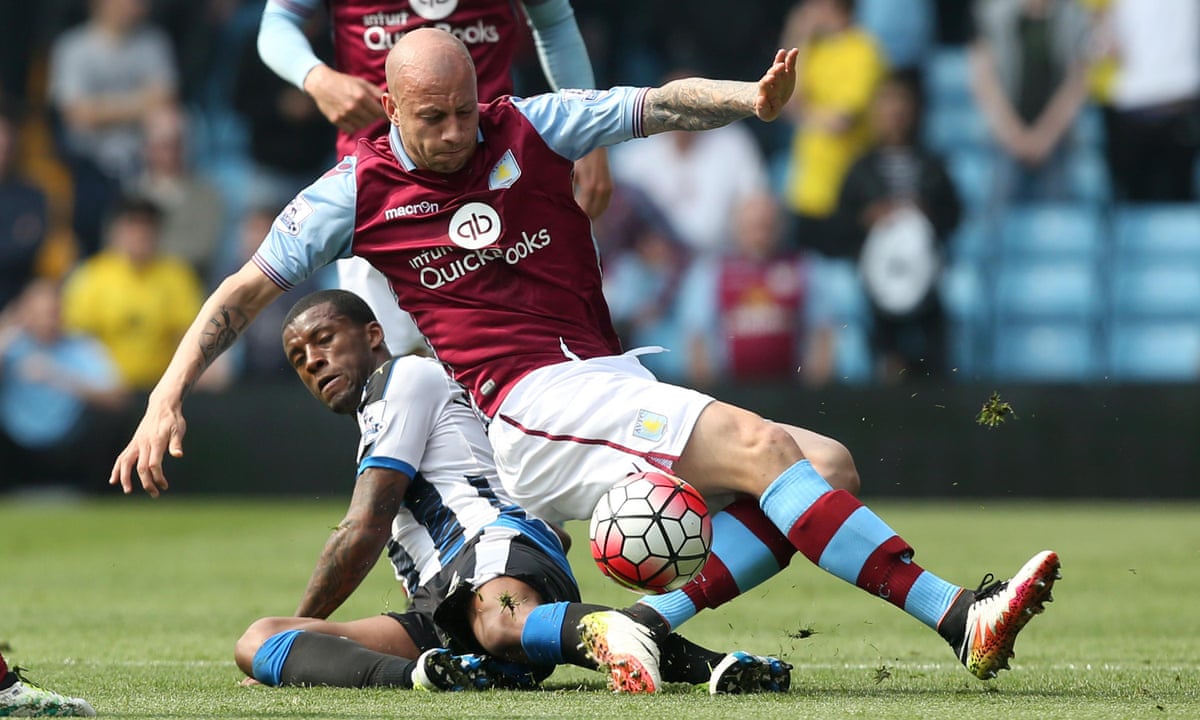 Optimism in the north-east has just relocated itself from Tyneside to Wearside. Other answers were going Newcastle Uniteds way until Sunderland campaigned back in their game against Chelsea, and with exclusively one more match to romp, to Sam Allardycess two, this tepid show against powderpuff Aston Villa recalls Rafa Bentez to the bottom three, with limited hope of clambering out, five parallel unbeaten range or not..
Newcastles away way has been abysmal all season, but this was supposed to be their get-out-of-jail poster. A team fighting for existence had not been able ask for more accommodating opponents than a residence area who could not control a shot on target, but if Villa were predictably everyday Newcastle were surprisingly lacklustre. Even for them. Survival is now out of their hands and on the evidence of this act – a massive missed possibility – they cannot argue with the home audience verdict. They are going down with the Villa, maybe as soon as Wednesday unless Benitezs favourite small-time team can do him a huge favour.
We didnt play well, the Newcastle manager articulated. Maybe there was too much anxiety, when you are under pressure you shape mistakes. Villa changed their plan last week against Watford and with five at the back they were very hard to break down. Our existence now depends on Sunderland more than us, but there is only one thing left for us focussed on now. If we get a chance to go into the last day with hope, we have to be ready to take it.
The first half was an uneventful and unhurried stroll in the sunshine, the absence of need and brainchild all too typical of an culminate of season game.
While that might have been par for the course for the participants whose relegation was substantiated a few weeks ago, it was distinctly fretting for Newcastle, "whos" intended making a dictation to escape. Apart from the claps from the travelling sans when Chelsea took the leading at Sunderland, you are able to never have predicted. Benitez possibly wasted the entire interim spelling out that if you cannot conjure your play at a Villa Park with beachballs and balloons straying all over the pitch, an aircraft curving the ground bearing the theme that Randy Lerner is a Blue and Joleon Lescott being booed by his own fans every time he stroked the projectile, there could well be a few repents when the season comes to a conclusion.
Apart from the Holte End reaching slightly better noise than customary almost nothing of note took place before the interval. Papiss Cisse could not get on the end of an early cross from Vernon Anita, and when he had a far post luck half an hour afterward he volleyed into the dirt, though the bottom line was that in 45 minutes of football neither goalkeeper was called upon to make a save. Villa just riled to assault at all until they realised that Newcastle were not exactly putting them under the cosh. When they did their efforts were insipid, summed up by an incident when Kevin Toner wasted so long in space on the left brandish for the ball that the crowd cheered when he received it, only for the girl to place his cross straight out of play.
The second half promised better when Andros Towsend sent in a threatening cross from the claim that might have raised a point for Newcastle had Cisse coped a better acquaintance or Jack Colback saved his follow-up shooting lower. That turned out to be the misfiring Cisses last-place contribution, Benitez ousting him with Aleksandar Mitrovic six times into the second half. It would be an exaggeration to suggest that the effects was immediate, but without exactly laying siege to the Villa goal Newcastle did step up their attacking endeavors after the divulge as well as beginning to play with a little more purport. Mitrovic missed a difficult risk when Cheick Tiote hooked the ball over Villas back front and the strikers volley cleared the bar as well as the goalkeeper, at which the home bunch enthusiastically took up their chant of Youre going down with the Villa.
That refrain was recited as news filtered through of Sunderlands fightback against Chelsea, the neutered scoreline making a Newcastle triumph imperative. Play had to be held up 15 minutes from the end while the pitch was cleared of a fresh infestation of plastic inflatables. Benitez, who has insured enough of beachballs to last-place a lifetime, did not gaze impressed. He seemed even more fed up when six instants of halt occasion ended with no clear-cut probabilities but a free kick from which Townsend could try his luck.
Last week against Palace a late amazement strike won Newcastle the points. This week the projectile departed straight to the goalkeeper. Cue Hi Ho Silver Lining. The survival storey seems to have moved elsewhere.