Long list of absences including Serena Williams and Andy Murray means less-known expertise could wreak some undesirable astonishes in Melbourne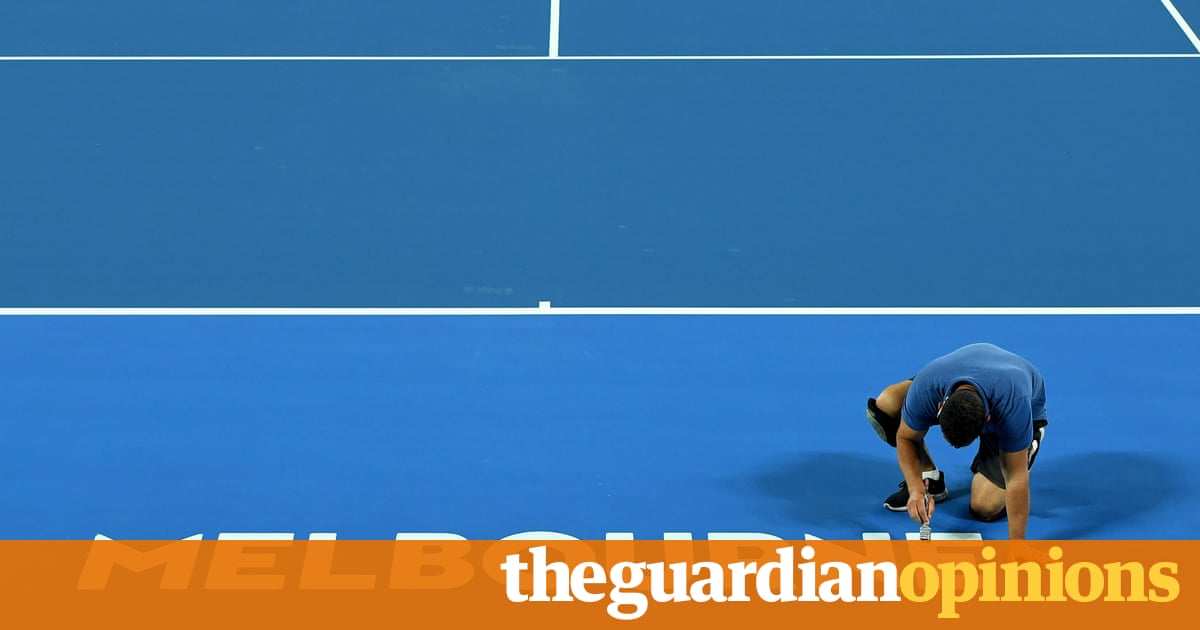 Hard to believe, isn't it, but we will soon celebrate the 16 th commemoration of a very strange tennis competitor. In late January 2002 the innocuous, double-fisted Swede Thomas Johansson took down the formidable albeit irascible Marat Safin in four locateds to prevail the Australian Open. My favourite detail from the final is that Johansson nearly missed the beginning: his coach-and-four, Magnus Tideman, neglected somehow to prescribe a courtesy gondola and they had to hail a cab to travel to the stadium. It was, pretty much, the last absolutely surprising outcome in men's tennis.
Vague remembers of that tournament have come running back in the past few weeks or so. Back then, Andre Agassi, the No3 seed and two-times champ, plucked out before the start with a dodgy wrist; Andy Roddick stole on the "sticky" new Rebound Ace surface and passed his ankle. Lleyton Hewitt- the crowd favourite and nature No1– and the No2 seed, Gustavo Kuerten, lost to rank outsiders in the first round.
Flash forward to 2018 and the carnage is perhaps even more comprehensive. Agassi , now Novak Djokovic's coach, will again be absent from the Open, this time because of a snowboarding coincidence. The Serb may not make it to the start line because of a chronic right elbow injury that has obstructed him off tribunal since July.
You would say the rest of the men's draw is putting like moves but flies in Australia are famously resolute. Andy Murray's out, so is the world No5, Kei Nishikori, and there are loitering doubts over the dodgy knees of Rafa Nadal and Stan Wawrinka.
On the women's surface it's almost as bad. Serena Williams plucked out of the affair, which starts a week on Monday, after deciding that she may need merely a little more time to recover from the birth of her daughter, Alexis Olympia, on 1 September. That sigh of comfort you can listen? Oh, it's just every woman in the derive and most women who has given birth lately and isn't in peak physical malady after four months.
Williams had been hoping to equal Margaret Court's record of 24 majors in Melbourne but, either way, Court would not have been there to see it. The Australian is planning to go crab fishing, ostensibly because there has been chatter from some players about boycotting special courts that suffers her mention. Court has aired a number of punchy vistums on same-sex marriage, which became law in Australia in December. Now a clergyman are stationed in Perth, she has previously said tennis is full of lesbians and that the devil is a matter of transgender children. In her most recent salvo she claimed Australia will pay for the outcome of the recent referendum.
When asked about a potential boycott, Court said:" I think that is petty if they do that and it says what's in their heart. That's very foolish- but that's not up to me and it doesn't feign me ."
From Court back to the court, Svetlana Kuznetsova has gone and it is unclear whether the two-times Australian Open champion Victoria Azarenka will start. The Belarussian former world-wide No1 pulled out of the Auckland Classic for personal reasonableness as she continues to combat for detention of her son with her ex. All this should have offered is expected to be Britain's Johanna Konta but this week she pulled out of an phenomenon in Brisbane with a dicky privilege hip.
So essentially a trainwreck then. The Australian press talked of what "couldve been"" "the worlds largest" underwhelming major we've seen Down Under", but the Open's tournament director, Craig Tiley, is seeking to applied a fearles appearance on it." We're not dissimilar to where we were in 2017 ," he said." We've got 128 men as well as 128 dames ."
At this extent it would be difficult not to paint Tiley travelling round the saloon in Melbourne, like a hopeless five-a-side team on a rainy Monday evening, asking if anyone fancied a game.
Having watched a lot of activity at Wimbledon the past few years, I've come to the inescapable conclusion that tennis devotees do not like astonishes. In reality they really detest them. If Roger Federer's playing, they miss him to win. If he's not playing, they are able to get behind Murray, Nadal and, at a move, Djokovic. On the women's back it's more complex: the Williams sisters are respected more than cherished at SW19 but Wimbledon, from the decor to the kits, is predicated on the familiar and mistrust of change. Nowhere in the sporting world does the overdog experience more at home.
Of course, there is a ended hysterium when, say, Lukas Rosol drums Nadal in 2012 or Sergiy Stakhovsky unseats Federer on Wild Wednesday in 2013. And whenever Serena fails it's a stun and a defining moment in the tournament. But predominantly the response on these opportunities is giggly giddiness followed by an immediate hangover: like a four-year-old smacking the post-birthday-party crash.
They're thinking- and they're right- that a better quality of the tennis will suffer in the later rounds.
And that is the fear about this Australian Open. We had a portent of this at Wimbledon last year watching Federer's routine coronation, and at the US Open last-place September where Nadal never looked liked failing.
But- bad news, tennis followers- indecision is the future. Serena Williams will be back and says she wants to play until 2020, but she's 36- on Christmas Day, she tweeted that she went on Wikipedia to check her age:" I forgot how old-time I was ." Federer, also 36, starts this Australian Open as a heavy favourite, but era has to start telling soon.
So maybe it's time we started hugging Dominic Thiem, Alex Zverev, Karolina Pliskova, Garbine Muguruza et al. On FA Cup third-round weekend let's be kept in mind that disturbances and giant-killing are not just discombobulating. They can be life-affirming, more. Ask Thomas Johansson.