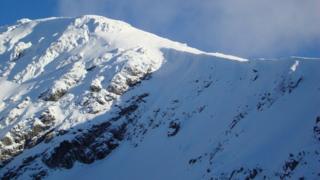 Two climbers who died in a fall have been appointed by police as Simon Davidson, 34, from the Edinburgh area, and Joe Smith, 23, from Kinlochleven.
The soldiers succumbed while clambering together on Saturday.
Their organizations were found by two other climbers on Stob Coire nam Beith in Glen Coe.
Tributes have been paid to Mr Davidson on social media. Mr Smith was originally from the Lancashire area before moving to Scotland.
The boys, who were friends, were known and well equipped for winter climbing.
Police Scotland pronounced: "A report was received around 16:25 on Saturday from other climbers on the hill.
"Glencoe Mountain Rescue Team attended and recovered "the mens" from the hill who had both unhappily succumbed.
"A report will be sent to the Procurator Fiscal. Members of the public and mountain salvage squad are thanked for their efforts during this incident."
'Super-enthused'
Among those expressing its appreciation to Mr Davidson has been Simon Yearsley, who clambered brand-new directions in Glen Coe.
On the UKClimbing.com, he described Mr Davidson as a "fine fun guy" who was "super-enthused" about climbing.
Others posted on UKC that to say the climber was "keen" on Scottish clambering would be an understatement.
Following the incident on Saturday afternoon, a team involving Glencoe Mountain Rescue and the police recovered the bodies.
The leader of the mountain recovery squad, Andy Nelson, said the men were well-equipped for the conditions.
---
Climber viewpoint
By Jamie Andrew, Scottish mountaineer
"No-one wants to be in the position that I was, caught on a mountain summit for five days in a storm.
"It's something that you might prepare yourself for as a mountaineer, and you can take every precaution to try and avoids it, but sometimes happens just take an sudden divert. And that's what happened to me, and it really was a terrible knowledge, but I was lucky and I endured.
"Being in the mountains at any time of the year means you are entering an environment that is dangerous.
"In the Winter, particularly so, and there is a lot of perils you have to be aware of like avalanches, bad weather, that kind of occasion.
"It's all about being prepared, being well-trained, having the right equipment, and taking the right decisions on the day.
"I don't know what happened to these poverty-stricken climbers up in Glencoe, I don't recollect anyone does hitherto, but it sounds like they were well-equipped.
"Sometimes things do just go wrong and it's a great tragedy of the mountains. But nonetheless for many thousands of people every weekend it's provisioning a rich and life-enhancing knowledge, and that's not really something you are able to turn away from."
Jamie Andrew lost his hands and paws after standing frostbite during a rain in the Swiss Alps in 1999. He spoke to BBC Radio Scotland's John Beattie program on Monday, 18 January.