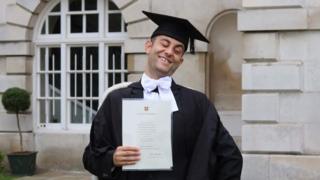 As Aphra watched her son Allan graduate from Cambridge University last-place month, she pondered back to the moment he was born .
"I'm so sorry your babe is dazzle, " a neighbour in Baghdad had said.
Aphra became the talk of the town because of the taboo associated with her son's condition.
It was Iraq in 1995 – Saddam Hussein was president, the Gulf War had ended only three years earlier and citizens were suffering under embargoes placed on the country.
As a blind child, Allan Hennessy's promises were poor.