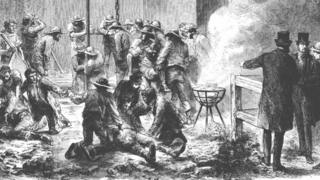 Wales may be a person built on coal, but it is also one built around tragedy.
And nowhere was this felt more than the Rhondda Valley.
During the industry's heyday in the late 19 th and early 20 th Centuries, 53 cavities were settled in the region, and the 40,000 strong workforce lost innumerable lives to pit falls and accidents.
Miners knew that, at some point, their pit was likely to be visited by disaster.
And on Wednesday 8 November, 150 years ago in 1867, it was Ferndale's time.
Total killed: 178 Children left fatherless: 145 Brides left widows: 67 Age of youngest scapegoat: 12 times Number killed aged under 18: 54
Image caption
Image caption
Image caption
Image caption
Image caption