The long speak: The Bosnian Serb general is accused of killing thousands of civilians at Srebenica and Sarajevo the worst transgressions in Europe since the Nazi era. Julian Borger tells the inside story of how he evaded capture for so long and was finally caught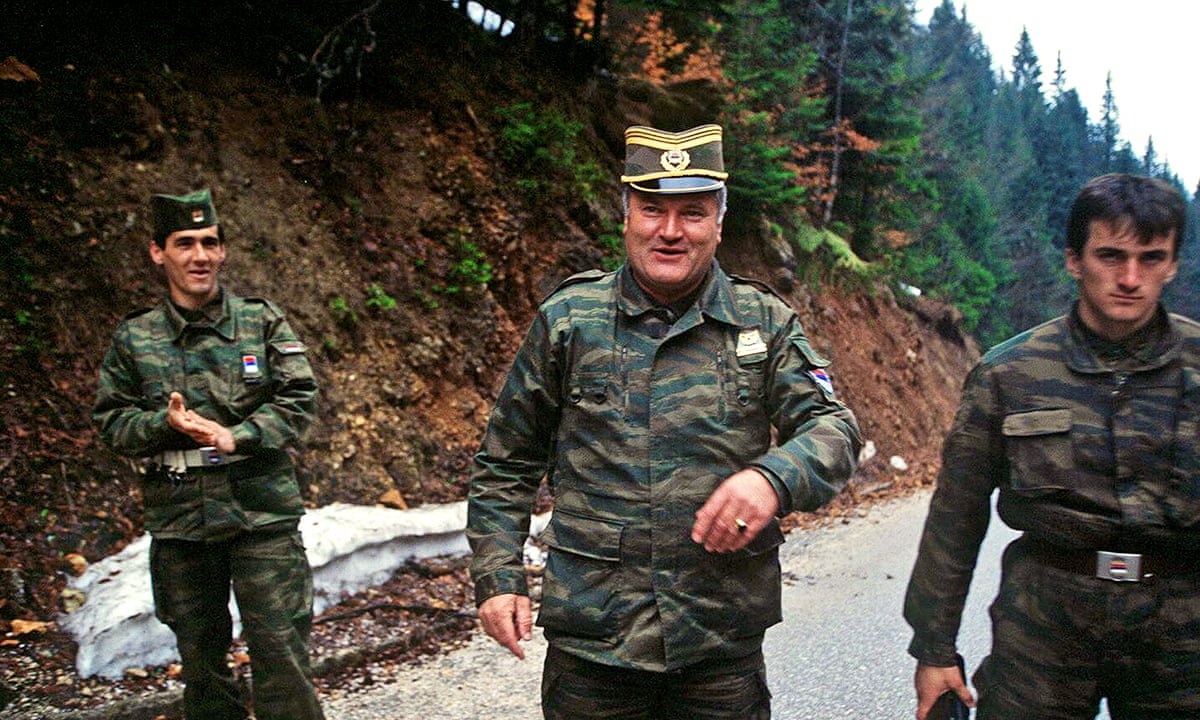 In July 1997, a Yugoslav army officer mentioned Milan Gunj received an pressing phone call at home in Belgrade. Something strange was incident at work and he was needed immediately.
Staff Sergeant Gunjs job could best be described as that of an infantry hotelier. He had risen through the ranks from barracks concoct and caterer to the rather charming project of looking after a fibre of gated and patrolled vacation homes the Yugoslav military has all along been provided for its top brass. The male announcing him on this summer period was a soldier "whos working" in one of these bucolic withdraws, at a region called Rajac in the wooded mountains of central Serbia. Some sudden clients had arrived. The soldier dared not say any more on the phone, but he was insistent Gunj come as soon as possible.
A few moments afterwards, he received a second entitle. This time it was from an aide in the part of the Yugoslav chief of the general staff, telling Gunj to get to Rajac immediately and enter into negotiations with his visitors. He would be told what he needed to know when he arrived. He went in his vehicle and leader south.
Two hours later, he arrived at Rajac after nightfall and determined a group of about a dozen forearmed servicemen in civilian invests milling around the entrance, and then the reason for all the pretext came striding out of the hotel vestibule, as if he had just commandeered the place: the unmistakable barrel-chested digit and blunt ruddy appearance Gunj had seen in a hundred news reports of the Bosnian war General Ratko Mladi.
I was somewhat surprised, fright, and confused by this turn of events, Gunj recalled. First of all, because this was in my complex, and I had no information that this would happen. And secondly, I know that Mr Ratko Mladi has been accused of certain deeds by the Hague tribunal. So at that point in time I was in a state of panic.
Gunj was by no means alone in seeming horror in Mladis presence. The general tolerate accused of the worst cruelties Europe had evidenced since the Nazi era. The Bosnian Serb general had overseen three years of the Sarajevo siege and the daily attrition of its residents by shelling and sniper fervour. He was also there when the Muslim enclave of Srebrenica was overrun by his troops in July 1995. Presenting himself as relevant instruments of national vengeance, he affirmed the sacking of Srebrenica as payback against the Turks for a pogrom of Serbs for the purposes of the Ottoman empire. Mladi reassured panicked captive Muslim women that their loved ones "wouldve been" safe at the same age that his soldiers were rounding up and slaughtering 8,000 spouses and sons. The beetroot-faced patrolman who had turned up to stay at Gunjs vacation home was "the worlds" most wanted man.
Mladi and his suite bided for a month in Rajac before starting again in the middle of the nighttime for another armed used, at Stragari, near the city of Kragujevac, a more elaborate sylvan hideout with sports grounds, wading pool, and table tennis. For the well being of hunters, the encircling groves were stocked with deer and mouflon, a species of wild sheep with flamboyantly curved horns.
General Djordje urin, an old-time category acquaintance of Mladi, described a usual date with the fugitive: We talked, we moved through the groves, we played some chess. We likewise played cards, table tennis. We had lunch. And then we moved some more.
Such was the determination of the Yugoslav general staff to keep Mladi both comfy and hidden that an entire district, the 30 th Personnel Centre, originally set up to oversee the social welfare of former Bosnian Serb officers, was tasked with looking after him. A substantial personal protection force was established.
There was a reward of$ 5m on Mladis head, and it was considered necessary to set up a gang that would protect him from various bounty hunters and crooks. This unit was attached to the 30 th Personnel Centre in Belgrade and have been incorporated into Republika Srpska army members, at times about 100 of them, said Jovo Djogo, a former man with "the centres activities" who went on to be Mladis personal security chief.
The Yugoslav government of Slobodan Miloevi staunchly repudiated any responsibility for the mass atrocities committed by the Bosnian Serb armed, but the elaborated assess taken in Belgrade to tend to Mladis safety and comfort after the struggle are a testament to close ties. In the consequences of the the Bosnian war, the Yugoslav army was an overwhelmingly Serb force. And as far as its commanders were concerned, Mladi was one of them.
Along with a formidable phalanx of sentries, Mladi had a driver, his own concoct, even his own personal attendant who would wandering with him back to Rajac in the late wintertime of each year. When the season was over and the deer hunters had departed, the suite would recall like a moving tribunal. During this period, Mladi also invested a considerable amount of time in Belgrade, at their own families residence on Blagoja Parovia Street in the upmarket suburbium of Koutnjak. He went out to restaurants and football matches in the Serbian uppercase. Video of these days establishes a tighten Mladi playing table tennis at Stragari, theatrically ruing a missed fire, and is president of household celebrations.
The men and women who helped keep the fugitive general in this contented bubble pictured him as a national hero, representing the martial excellences of Serb mythologies from other eras. Somehow they managed to persuade themselves that within this petroleum stub of a follower was an repetition of Serbias heroic age. But just in case their allegiance should ever waver, the latter are presented photographs of "their childrens" a characteristically direct reminder of the high price pay back informants.